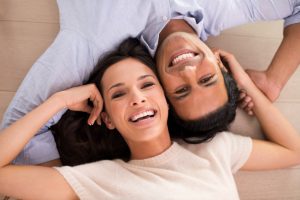 So you've just gotten your dental veneers from Aesthetic & Family Dentistry of Washington. Congratulations! With the power of a new, beautiful smile in your hands, we know one thing is for sure: you want your porcelain veneers to last as long as possible — and we agree. That's why your Washington DC dentist, Dr. Yelena Obholz, has put together a guide on caring for your new veneers. Follow it and you'll be smiling bright for years to come.
4 tips for beautiful, long-lasting dental veneers
Keep these tips in mind to enjoy a long, beautiful friendship with your porcelain veneers!
#1: Oral hygiene
Once you've got your porcelain veneers, the simple facts of oral hygiene remain. Brushing for two minutes, twice a day, flossing daily and visiting your dentist as recommended are just as important as ever. It's true that decay cannot form on the surface of veneers, but it can still lurk everywhere else — including the backs of the veneered teeth.
#2: Tools, not teeth
You can eat, smile and speak just like you're used to with porcelain veneers, but you should be extra-careful performing actions that aren't really meant for teeth… like opening packages or biting nails. It's a bad idea at any time, but especially with veneers, as the bending and excess pressure can cause your veneers to break. Use scissors and clippers instead — or as we say: tools, not teeth!
#3: Mouthguards
If you're a weekend warrior or full-time athlete, make sure you're protecting your new smile with an athletic mouthguard. These devices absorb shock and pressure from your teeth, keeping them whole, beautiful and healthy. Not only that, but studies suggest wearing an athletic mouthguard can actually reduce risk of concussion when head trauma occurs. For the sake of your oral and overall health, invest in an athletic mouthguard!
#4: Watch out for stains
One of the advantages of porcelain veneers is the fact that porcelain is highly resistant to stains — so some people look at them as permanent teeth whiteners. Even still, we advise patients to continue to stay away from highly pigmented foods and beverages with porcelain veneers to avoid staining surrounding tooth enamel.
More questions? Contact your DC dentist today!
If you've got remaining questions regarding the lifetime of your porcelain veneers, please don't hesitate to contact Aesthetic & Family Dentistry of Washington. We're here to help you with all things related to your smile — so contact us to book your visit today!