Dental Implants – Washington, DC
Seamlessly Replacing
Missing Teeth
If you lost one or more permanent teeth due to injury or decay, we strongly recommend implants as the superior reconstructive solution due to their permanence, durability, and aesthetic quality. Made from special titanium, they offer patients a 90-95% success rate and a renewed ability to eat, speak, and smile with complete confidence. Helping you get back to the ideal level of oral health and happiness you deserve is our top priority when we offer tooth replacement solutions like dental implants here in Washington, DC.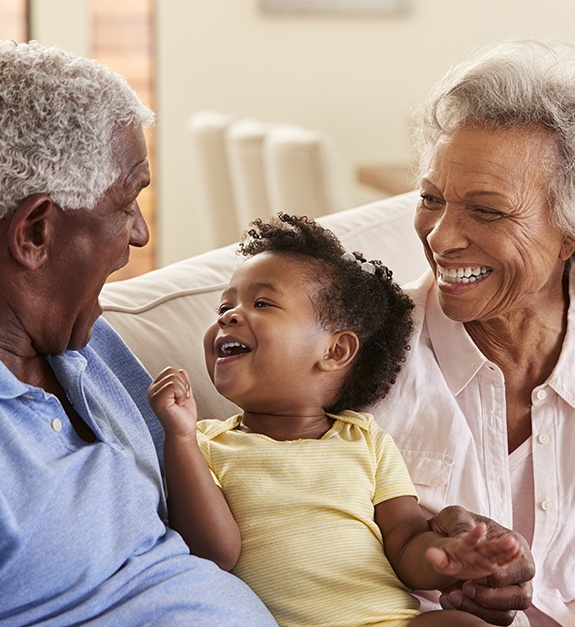 Why Choose Aesthetic & Family Dentistry of Washington for Dental Implants?
We Partner with Local Specialists
Dental Insurance Accepted & Maximized
Experienced
Dental Team
What are Dental Implants?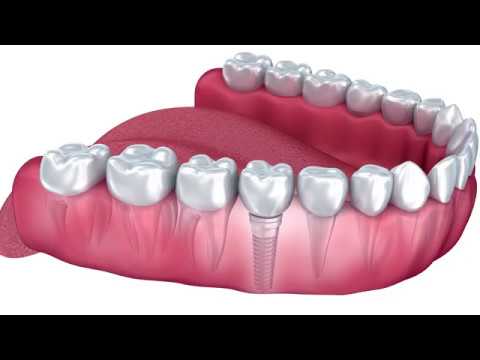 Dental implants themselves are small, titanium posts that are surgically placed below the gumline and into the jawbone to replace the missing root structure of your natural tooth or teeth. Due to their biocompatible abilities, they're able to fuse with the jawbone through a process called osseointegration, providing a strong and stable foundation for your restoration to be attached to.
The 4-Step Dental Implant Process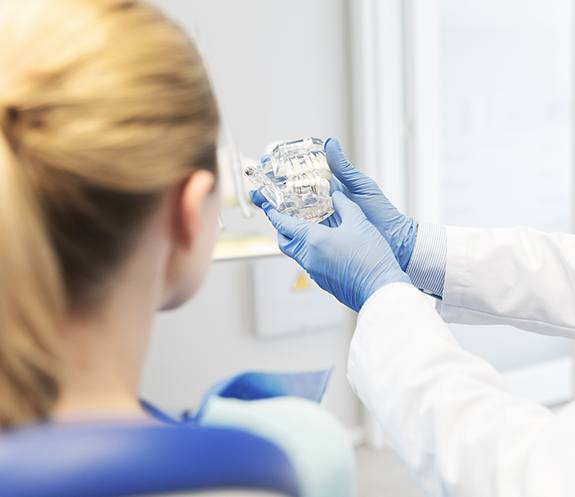 Not every dental implant process is the same, but there are four steps that every patients will have to go through during the process:
The Initial Consultation. This initial visit allows us to lay out your customized treatment plan and collect necessary diagnostic information, such as X-rays, to ensure you're a good candidate for the procedure.
Dental Implant Surgery. We partner with local, expert oral surgeons for the best possible dental implant surgery results.
Osseointegration & Abutment Placement. Once the implants have fused with the jawbone and your gums have healed, we'll call you back into the dental office to attach the abutments to them.
Placing the Final Restoration. The abutments will secure your final restoration in your mouth.
Benefits of
Dental Implants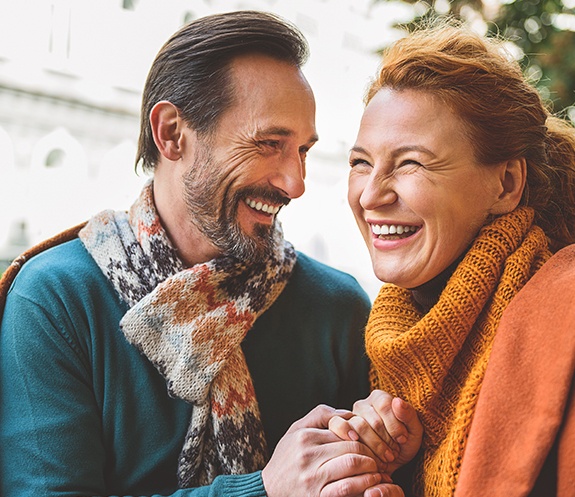 Dental implants are such a popular solution to replacing missing teeth because they offer a variety of both everyday and long-term benefits, including the following:
A long lifespan of 35+ years
Easy to maintain
Prevention of jawbone erosion
Preservation of the facial structure
Enhanced chewing and speaking abilities
Natural looking and feeling replacement teeth
95% treatment success rate, even after 10 years of placement
Who Can Dental
Implants Help?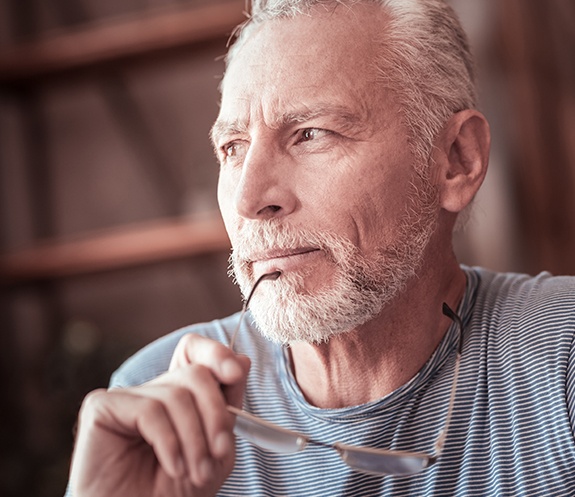 Whether you're missing a single tooth or all of your teeth, dental implants are able to address a variety of tooth loss situations. However, they're not always the best treatment for everyone. For those who have chronic illnesses that need to be treated, existing oral health problems like gum disease, or not enough jawbone density, they may require preparatory treatments and planning with their primary care physician before they can undergo surgery. Once that's complete, we'll be able to outline your complete dental implant treatment and explain how we plan to restore your smile.
Missing Single Tooth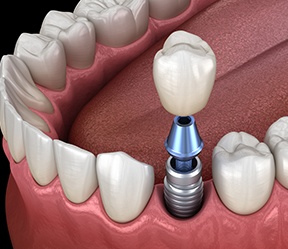 To replace a single tooth, we'll place one dental implant below the gumline and into the jawbone in the gap in your smile. After it has fused with the bone through the osseointegration process, we'll be able to attach an abutment that will secure a customized dental crown in place.
Missing Multiple Teeth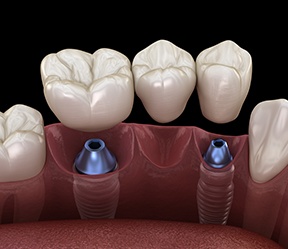 Instead of having to alter the structure of your existing teeth to support a traditional dental bridge, we can secure one to two dental implants placed at either end of the gap in your smile.
Missing All of Your Teeth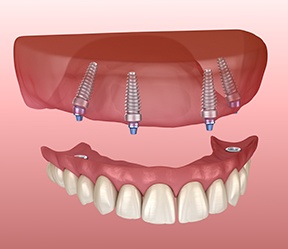 We can anchor one or two dentures to the arches of your mouth using four to eight dental implants on each row. These will secure the prosthetic in place and prevent it from slipping or shifting as you eat or speak.
Understanding the Cost of Dental Implants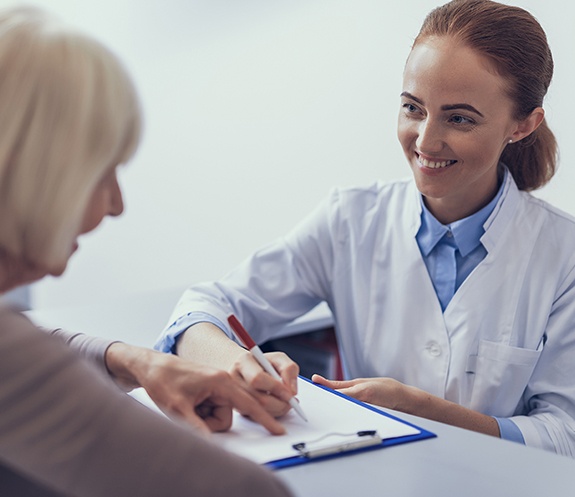 The dental implant treatment is custom-tailored to fit each individual patient's needs, which is why there's no set price tag attached to it. At your initial consultation, we'll walk you through key details, including how many implants you'll need to have placed and what type of restoration you require, which will help us provide you with a cost estimate. We'll also walk you through dental insurance coverage and additional financing information so you know all of your payment options.
Schedule Your Consultation Today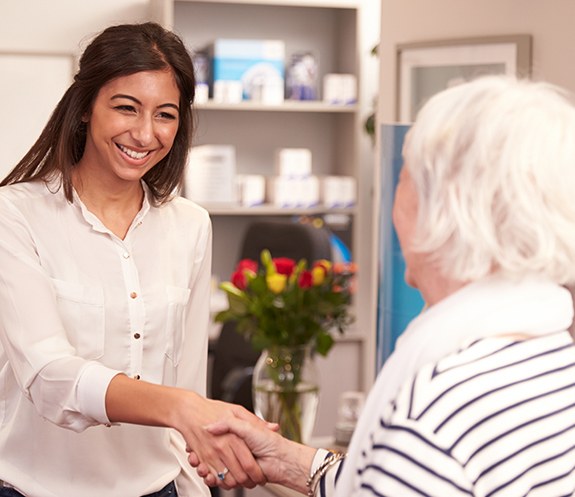 No one should have to struggle with tooth loss. Instead, contact Aesthetic & Family Dentistry of Washington today if you have any questions about our treatment options, or if you'd like to schedule an implant consultation. We look forward to meeting you! Our Washington, DC location is easily accessible to patients who live or work in the Embassy Row, Georgetown, Tenley Circle, and American University areas.
Dental Implant Frequently Asked Questions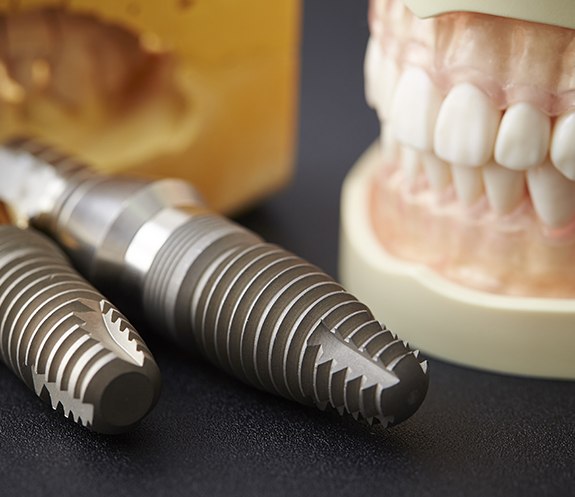 For patients missing any number of teeth, dental implant placement is the most reliable and longest-lasting option for replacing them. While there are several benefits to having the procedure performed, there are some common questions that patients have about the process. As you continue reading, we provide our expert insight so you can feel more informed and comfortable about the dental implant procedure. If you have any other questions, don't hesitate to contact us today at Aesthetic & Family Dentistry of Washington to schedule a visit!
Is the dental implant process painful?
Although dental implant placement requires the surgical insertion of a titanium post into the underlying jawbone, the process is remarkably painless. That can be attributed to the leaps and bounds that have been made in dental anesthesia. Before the process starts, we'll make sure the treatment area is completely numb so you can have a pain-free experience.
After the initial placement is completed, you can expect some moderate discomfort for up to seven days. However, it should be manageable with the aid of an over-the-counter pain reliever. If any acute discomfort persists, just give us a call to schedule a visit at our Washington, DC dental office.
Will I have a customized plan?
The dental implant process starts with performing a thorough assessment of your jawbone, oral and overall health, and the number of teeth you have missing. Based on these variables, she will create a complete replacement plan to fit your specific needs. We'll then refer you to an in-network specialist who will perform the actual dental implant placement. Then, after you've had time for sufficient healing, we'll invite you back to our dental office to carefully guide you through the rest of the procedure so you can soon have the perfect tooth replacement.
Are dental implants only for older patients?
Contrary to popular belief, dental implant placement is not an age-specific process. It is designed, instead, to help any adult patients living with missing teeth experience the fullness of having a complete and functional smile.
This is important because no matter a patient's age, the prolonged absence of even a single tooth can trigger the surrounding teeth to shift, which can lead to bite problems and a greater chance of gum infection. By receiving dental implants in Washington, DC that are anchored into the bone like the original roots, patients are able to maintain a more youthful appearance while regaining the total function of their teeth.
How much do dental implants cost?
One of the most attractive features of the dental implant process is that it's a completely customized experience, and we'll take every precaution to ensure it's the right procedure for replacing your missing teeth. It starts with performing a careful examination before the process starts to make sure you're a good candidate. As previously mentioned, the assessment will take into account the condition of your jawbone and the state of your oral and overall health. After we've determined you're eligible in these three areas, we will develop a complete replacement plan as well as an accurate cost estimate so you can plan accordingly.