Invisalign – Washington, DC
Clear Braces -
Clearly Beautiful Smiles
As a teenager, you may have been relieved that you didn't have to undergo traumatically embarrassing tooth alignment using traditional braces, but as an adult, you might be looking at your crowded or gapped teeth wishing you had. While getting braces might have seemed embarrassing at the time, you realize in retrospect that more than half of your friends had them. As an adult, this is probably not the case. You want to correct your bite misalignment because you know a straighter smile helps prevent bacterial buildup in crowded dental areas, and uneven wearing of your teeth, but the thought of wearing braces to your upcoming business meeting is preventing you from taking the next step. If this sounds familiar, you may want to consider smile alignment with Invisalign from our Washington, DC cosmetic dentist.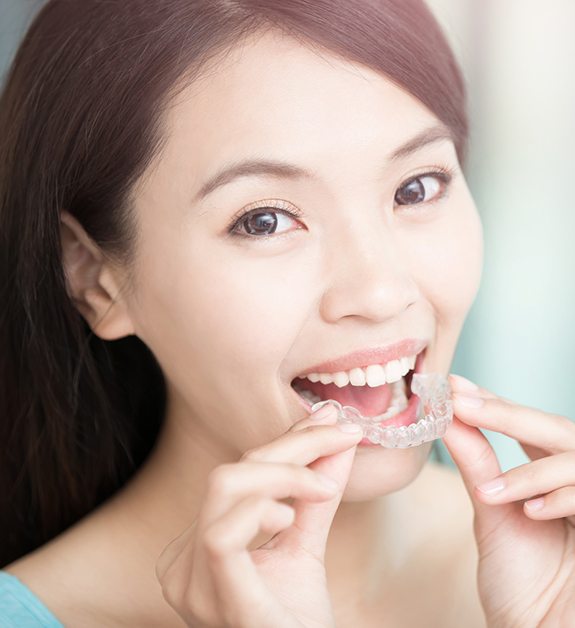 Why Choose Aesthetic & Family Dentistry of Washington for Invisalign?
Discreet Invisalign Treatment
Orthodontics for Teens & Adults
Experienced Team of Dentists
Invisalign® Clear Braces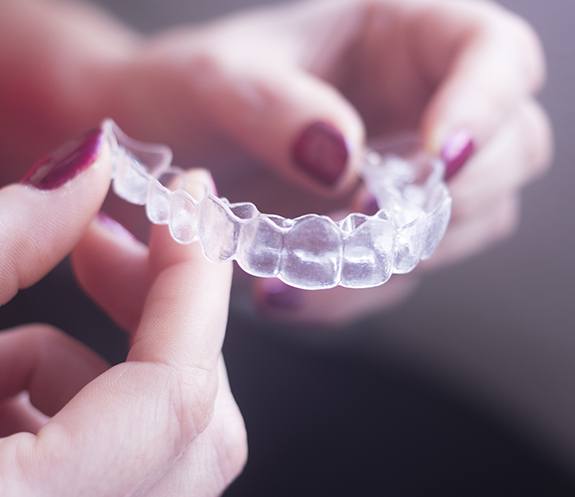 At Aesthetic & Family Dentistry of Washington, we know just how you feel. That's why we offer Invisalign in Washington, DC. These clear braces work to straighten your teeth in less time, with less pain, and none of the metallic smiles that go along with traditional braces. It's an effective way to get a corrected bite without missing a beat.
How Does
Invisalign Work?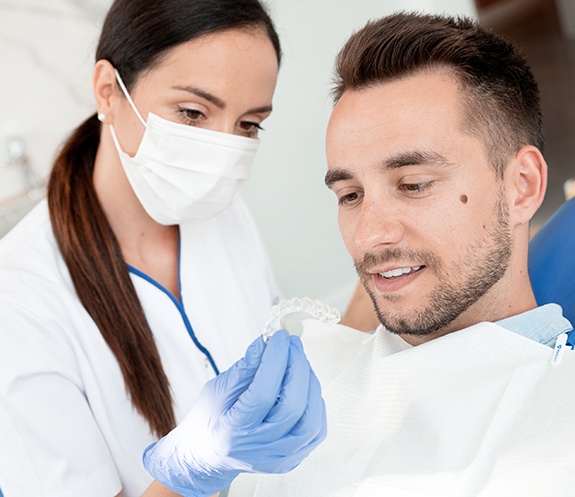 Invisalign uses a series of clear alignment trays to gradually shift your teeth into place. It all starts with dental scanning using our 3D digital X-ray technology. These scans produce high-definition images of your entire bite allowing us to view your current smile irregularities accurately and create an impression of your teeth digitally that can then be used to develop the series of aligners that will lead to your flawless smile. Once your aligners are created, you will simply place them on your teeth and wear them about 20 to 22 hours per day. After about two weeks, you will replace the current set with a new set to continue your alignment.
Periodically, you will need to visit our dental office to ensure your bite is aligning according to plan, and make any necessary changes to your alignment trays. You will need about half as many of these appointments compared to traditional braces, and they will not take nearly as long as orthodontic appointments, which means more time for work, family, and fun. Because they're removable, Invisalign can be taken out during meals which means there's no need to give up any of your favorite foods while you straighten your teeth, and you can continue with the at-home dental hygiene routine you're used to with the addition of gently brushing your alignment trays whenever you brush your teeth.