Smile Makeovers – Washington, DC
Create a
Picture-Perfect Smile
Are you suffering from a number of dental issues? Perhaps your problems range from the cosmetic to the functional -- meaning your smile just doesn't look, feel or work the way it should. If that sounds familiar, we've got something to share with you: smile makeovers from our Washington, DC cosmetic dentist are a comprehensive solution for fixing a number of dental issues, to give you the beautiful, properly-functioning teeth you've always desired!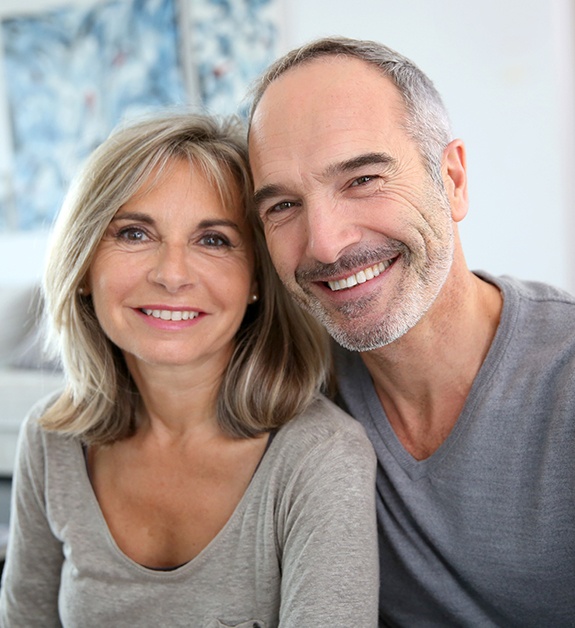 Why Choose Aesthetic & Family Dentistry of Washington for Smile Makeovers?
Custom-Tailored Cosmetic Treatment
Experienced Team
of Dentists
Discreet Orthodontic
Treatment
All About Smile Makeovers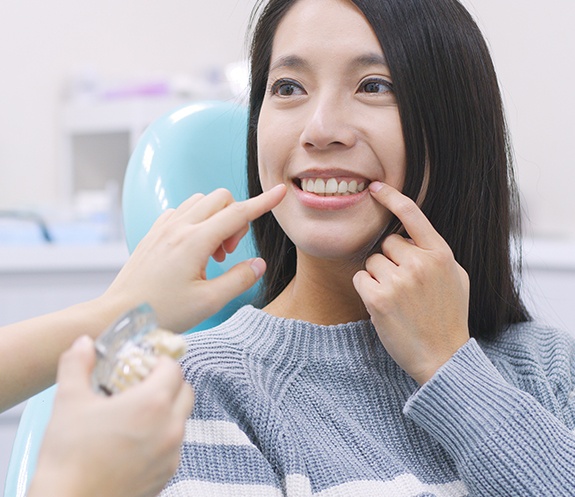 To redo your teeth with a smile makeover, we may consider different treatments from cosmetic and restorative dentistry as well as orthodontic treatment, when necessary. That means our dentists will evaluate your dental health, alignment, spacing, and overall aesthetics as well as your facial characteristics to put together your unique smile makeover treatment plan. Depending on your needs, your smile makeover could include one, two or a few of the following cosmetic and restorative dental services.
Learn About Factors of Smile Makeovers
Tooth-Colored Fillings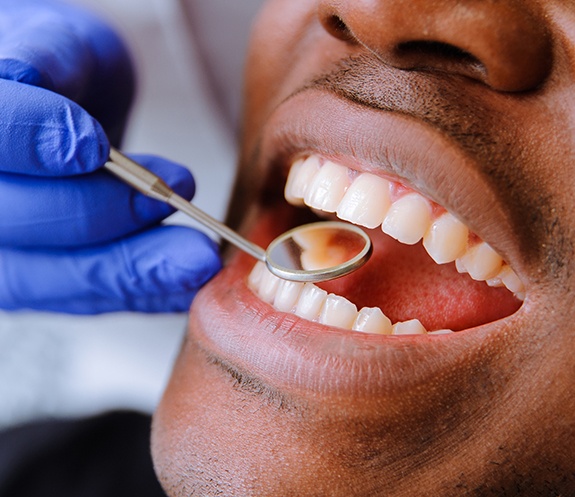 We can't make your smile look beautiful until it's completely healthy -- and that's why we will begin your smile makeover with restorative treatments, as needed. Tooth-colored fillings are a wonderful way to restore teeth from cavities without marring the overall appearance of the smile. All-ceramic restorations are also available for more serious cases of decay or damage.
Dental Implants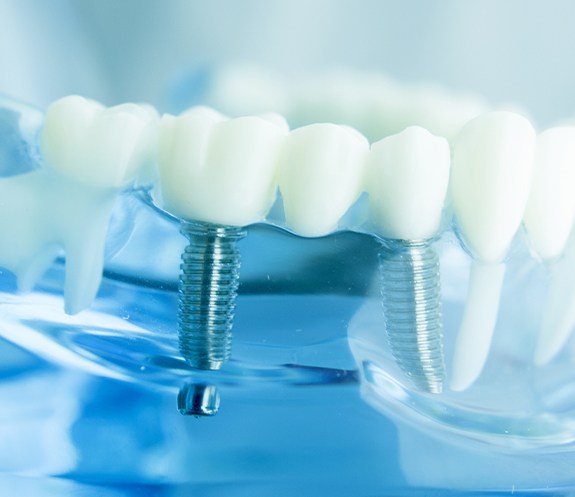 If you're missing one or more teeth, a big part of your smile makeover will undoubtedly be focused on tooth replacement. And guess what? Nothing does the job better than dental implants. These tiny titanium posts are surgically implanted into the space left by each missing tooth. They act as prosthetic roots to strengthen your jaw and stabilize the beautiful tooth replacement that sits on top.
Invisalign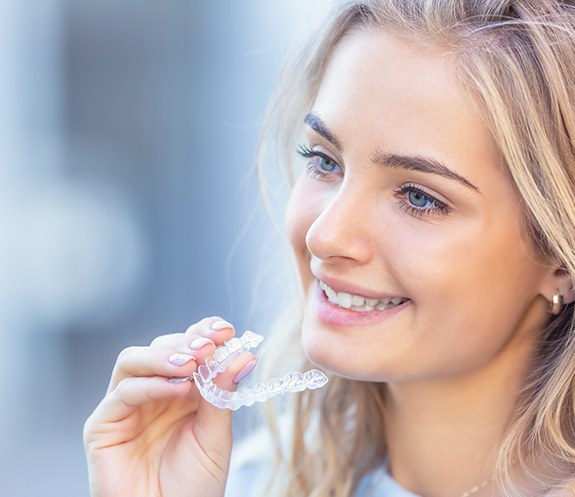 If you're suffering from orthodontic issues, we may recommend Invisalign as part of your smile makeover. Invisalign are clear aligners that allow you to enjoy the benefits of straighter, properly-aligned teeth without the embarrassment or hassle of traditional metal braces. The average treatment time for Invisalign is about 12 months.
Veneers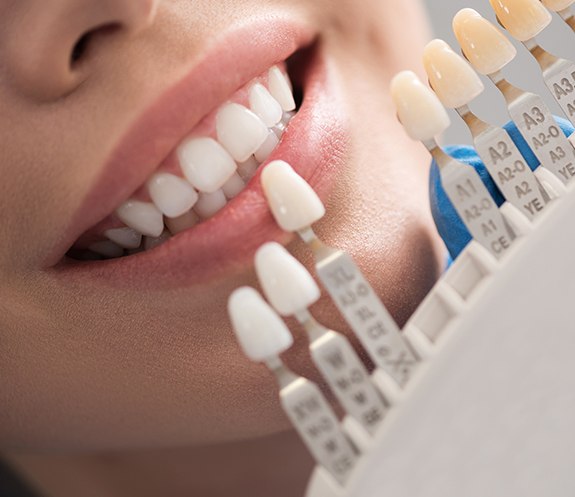 Veneers can provide a do-over for damaged teeth. These ultra-thin coverings are placed directly on the surface of front teeth, almost instantly enhancing or restoring their size, shape, and overall appearance. Chipped, gapped, cracked, stained and slightly misaligned teeth can all benefit from the transformative results of porcelain veneers.
Teeth Whitening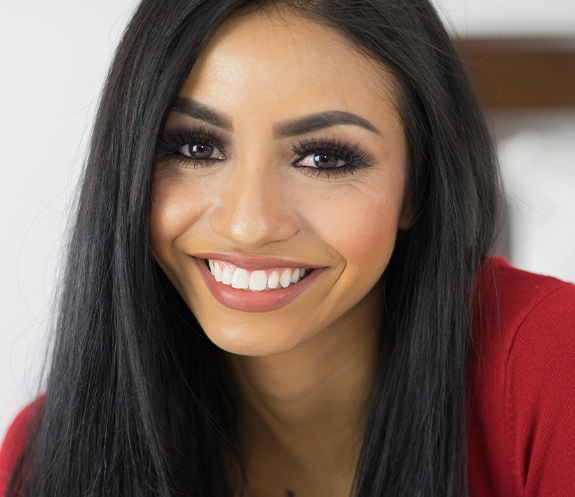 One of the most popular offerings in cosmetic dentistry, teeth whitening is an integral part of almost any smile makeover. With both in-office and at-home treatments available, you can reveal your whiter teeth at the pace you're comfortable with.
Ready to Learn More? Contact Us Today!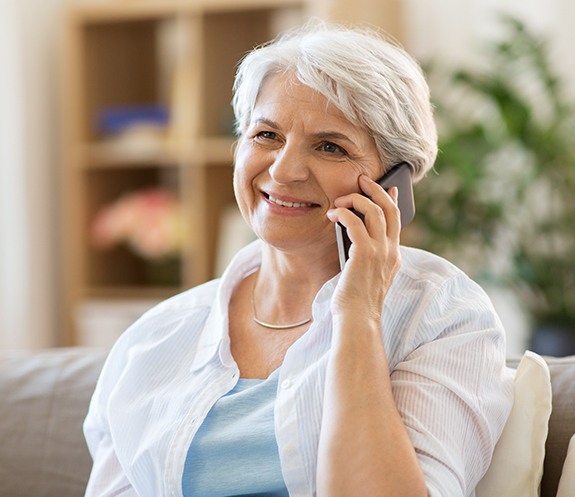 Schedule your consultation to learn more about smile makeovers in Washington DC! We can't wait to get started on your new, improved smile.