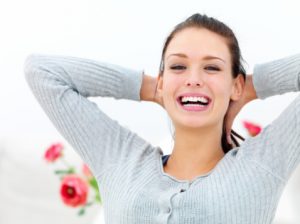 What would you do for a beautiful smile? DC cosmetic dentistry makes outstanding smile aesthetics more attainable than you may have imagined. Learn what Dr. Yelena Obholz of Aesthetic & Family Dentistry of Washington offers in her ingenious smile makeovers.
Starting a dream smile
Enrolled in the Las Vegas Institute for Advanced Dental Studies, Dr. Obholz desires to join together the latest dental techniques and her artistic vision to create functional and noticeably attractive smiles. For each patient, the vision begins with an oral exam and cleaning. Then, formulation of a comprehensive treatment plan allows doctor and patient to craft a vision for a healthy, new smile.
Dr. Obholz addresses health issues first with precise periodontal care, tooth-colored fillings, and tooth replacement options such as bridgework or dental implants as necessary. From there, she considers what the patient likes and dislikes about his or her smile.
Together, they decide what cosmetic dental services can realistically meet agreed upon smile goals within a certain timeframe and within the patient's budget. Also, digital x-rays and photos give Dr. Obholz and her patient a clearer idea of what can be and should be done to make that dream smile happen.
DC cosmetic dentistry services
Zoom! Professional teeth whitening in the DC area remains a popular, efficient and cost-sparing way to improve the color of tooth enamel by about 8 shades of color. Applied either in-office or as an at-home version, Zoom!'s bleaching gel lifts years of staining right out of tooth enamel Combined with composite resin bonding, an artistically sculpted putty that fills gaps, chips and other minor defects, a dream smile happens in just a visit or 2.
More extensive work often melds restorative and aesthetic work.  A great example is use of tooth-colored fillings, CEREC same-day crowns and porcelain inlays and onlays. These beautiful and natural-looking treatments restore teeth decayed or damaged by multiple metal fillings, oral injury or root canal therapy. Through advanced computer imaging and in-house design and manufacturing, these treatments replace tooth structure seamlessly and add tremendous durability to weakened teeth.
For deep discolorations, minor crookedness, gaps or chips, Dr. Obholz frequently suggests customized porcelain veneers. These thin, translucent ceramic shells bond permanently to the front of imperfect-looking, but healthy, teeth. They transform the smile zone in just 2 visits to your Washington, DC cosmetic dentist.
Finally, Dr. Obholz even offers the most innovative orthodontic option available today. It's called Invisalign. This system of clear acrylic aligners moves crooked, gapped teeth into healthier, more attractive positions without the discomfort and embarrassment of metal braces. Adults and teens like Invisalign because they are removable, easy to care for and practically unnoticeable.
Are you ready for a new you
Start with a smile makeover consultation with Dr. Obholz and her friendly team. Bring your questions, and learn about the many options cosmetic dentistry in DC offers to patients desiring their own dream smiles. Contact the office today to  schedule an appointment.