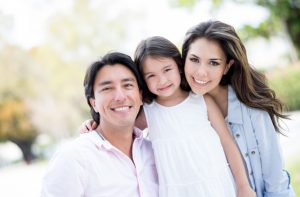 Dr. Yelena Obholz serves the Washington DC area with excellent dental and periodontal treatments. Constantly adding to her significant experience in periodontics, oral surgery and prosthodontics, Dr. Obholz is currently enrolled in the Las Vegas Institute for Advanced Dental Studies. It's with this focus on superb dental care that she runs Aesthetic & Family Dentistry of Washington, with a new, state-of-the-art location at 5101 Wisconsin Avenue in DC!
Comprehensive Dental Services for All Smiles
From children's first visits to cosmetic treatments and options in tooth replacement, Dr. Obholz offers everything you and your loved ones require for maintaining healthy smiles. We know your schedule is busy, and you don't want to have to spend unnecessary time shuttling between dental offices to receive the care you need — that's why Aesthetic & Family Dentistry of Washington offers a range of treatments in general, restorative and cosmetic dentistry.
We've listed just two of our special services below. Click here to find them all!
Periodontal Disease Treatment
Periodontal (gum) disease currently affects some 75 percent of American adults, and it's the leading cause of tooth loss in patients over the age of 35. That's a concerning figure, especially when you know that periodontal disease has been linked to cardiovascular disease, high blood pressure, stroke and diabetes.
Signs you may be suffering from gum disease include:
Chronic bad breath

Bleeding gums

Gum recession

And more…
Dr. Obholz provides periodontal disease treatment in Washington DC. Mild forms of gum disease are known as gingivitis and can be reversed with extra-diligent brushing and flossing. Moderate cases of the condition are reversed with a deep cleaning known as scaling and root planing, which removes plaque and tartar buildup from above and below the gum line. Antibiotic treatment can also help treat gum disease. In the most advanced cases, we may partner with a periodontist to help you enjoy healthy gums once again.
Smile Makeovers
Dr. Obholz wants her patients to have smiles that are healthy and beautiful. Individual services in cosmetic dentistry can help to achieve the dazzling teeth you've desired, but if multiple smile imperfections are impeding on your self-confidence, a smile makeover can help! It's a multi-faceted approach that can improve the form and function of your damaged or imperfect teeth.
A smile makeover may include a combination of any of the following treatments:
Tooth-colored fillings

Dental implants for tooth replacement

Invisalign, clear braces for adults

Porcelain veneers

Teeth whitening
Whatever your smile requires, you and Dr. Obholz will thoroughly discuss your desires and treatment options to come up with a plan that's just right for you.
Schedule Your Appointment Today
At Aesthetic & Family Dentistry of Washington, we offer a range of solutions for all smiles. Contact us to schedule an appointment for you or someone you love today!