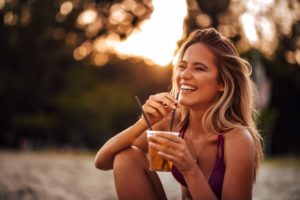 If you're like most people, you couldn't be more ready to take it easy this summer. Whether you're relaxing by the neighborhood pool or traveling to a tropical beach, you'll definitely want to stay hydrated as you spend time in the sun. However, as your dentist in Washington, DC can tell you, some beverages are better for your teeth than others. Keep these five dental health tips in mind to enjoy a brighter smile all summer long!
1. Drink Plenty of Water
Without a doubt, the healthiest beverage for your teeth is good old-fashioned water. Make sure to sip it often throughout the day. Not only will it keep your body hydrated, but it will also help your mouth produce saliva, or spit. It might sound gross, but saliva is actually good for your oral health – it rinses leftover food debris off of your teeth. As a result, it lowers your risk of tooth decay, and it also keeps your breath fresh!
2. Opt for Tap Water When Possible
Sometimes, bottled water is the only type you'll have access to. When you have the chance, though, drink tap water instead. Many sources of public drinking water are fluoridated, meaning they've been fortified with a valuable mineral called fluoride. Fluoride makes your teeth more resilient to cavities. So, drinking tap water rather than bottled water can lead to a healthier smile.
3. Stay Away from Sodas
Kicking back with a cold soda can be refreshing on a hot day, but remember that carbonated beverages are acidic. Over time, frequently drinking soda can weaken the enamel of your teeth, leaving them more susceptible to temperature sensitivity and even breakage. Not to mention, dark sodas can stain your pearly whites.
4. Sip Through a Straw
If you do indulge in soda or another carbonated beverage, use a straw. It will minimize the drink's direct contact with your teeth, greatly reducing your risk of dental damage and discoloration. Additionally, try to finish your beverage quickly rather than sipping it slowly over time. Doing so will shorten the amount of time that your teeth are exposed to acid.
5. Consider Drinking Tea
Many types of tea contain antibacterial compounds, so they might be able to prevent or slow tooth decay or gum disease. For this reason, tea is often considered a good mouth-healthy alternative to water. Just be sure to not add sugar to it!
Along with daily brushing and flossing and regular visits with your dentist, these summer dental health tips can help you maintain a vacation-ready smile!
About the Practice
Our team at Aesthetic & Family Dentistry of Washington strives to offer convenient, state-of-the-art dental care for patients of all ages. Using the latest technology in the field of dentistry, our three dentists are able to provide a wide array of services in one location. We also aim to help our patients maintain healthy smiles in between visits. For personalized tips on keeping your smile healthy this summer, get in touch with us by visiting our website or calling (202) 364-8989.