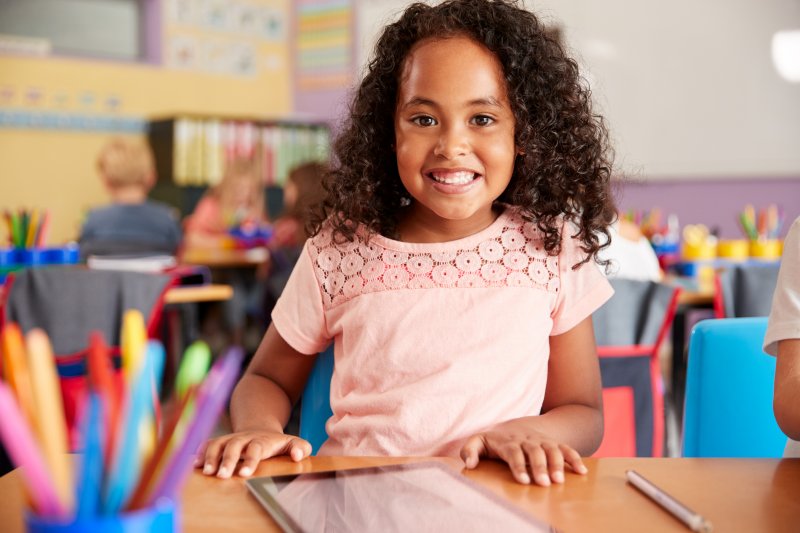 The days are getting longer, the air is getting crisper, and summer is officially coming to an end. The first day of school is right around the corner, which means it's time to start preparing your child for their return to the classroom! Aside from checking off their school supply list, you should also encourage your little one to maintain a healthy smile this year. Although it might not seem obvious, their oral health can affect their academic performance. Read on as your children's dentist in Washington explains how.
How Does Oral Health Affect Academic Performance?
Did you know that brushing and flossing can benefit other aspects of your life? If your child has good oral health, it can set them up for academic success! One study found that children with dental problems are associated with reductions in academic performance because they're more likely to be absent from school and less likely to complete required homework. Furthermore, a report from the Office of Surgeon General notes that more than 51 million school hours are lost each year to dental-related conditions.
Back-to-School Tips for a Healthy Smile
By helping your little one maintain good oral health, you can ensure they spend more time in the classroom – not in a dental chair! Here are a few steps you can take to help them keep a healthy smile:
Get Into a Routine
Brushing twice a day and flossing daily are crucial to prevent dental problems, such as tooth decay, cavities, and gum disease. You can help your child establish a back-to-school oral hygiene routine by having them brush and floss at the same time every day. Eventually, these habits will become so ingrained that they'll be doing them without a second thought!
Make Brushing Fun
If your little one dreads brushing their teeth, try to make it more exciting for them! You can take your child to the store and allow them to pick out a toothbrush, toothpaste, and other oral care essentials. They can choose an electric toothbrush that lights up, plays music, or has their favorite character on it. A fun tool will give them something to look forward to every day!
Pack Mouth-Healthy Lunches
Lunchtime is one of the most critical parts of your child's day. If they're frequently eating a sugar-filled meal, it can wreak havoc on their teeth and increase their risk of cavities, decay, and gum disease. Protect their smile by packing a sack lunch with tooth-friendly foods, such as deli meats, whole grains, fresh fruits and vegetables, and calcium-fortified dairy products.
Schedule a Dental Visit
Before school starts, schedule a routine checkup for your little one! It allows your dentist to detect, prevent, or treat any issues that could turn into complications down the line. They'll make sure your child's teeth and gums won't be a problem during the year!
Is your child ready for the school year? By following the tips outlined above, you can help them kick off the term with a strong and healthy smile!
About the Author
Dr. Yelena Obholz earned her Doctor of Dental Surgery degree from the New York University College of Dentistry. She takes numerous hours of continuing education courses every year to keep her skills up to date. Dr. Obholz is passionate about helping even her youngest patients achieve their best smiles. Before the first day of school, bring your child in for a routine checkup to ensure their oral health won't interfere with their studies. Visit our website or call (202) 364-8989 to schedule an appointment with Dr. Obholz.