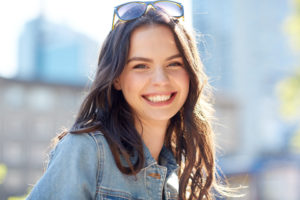 Summer is filled with iconic American foods: hamburgers on the grill, hot dogs at a baseball game, cool watermelon on a hot afternoon. However, missing teeth can make it difficult to enjoy these and other summer classics. Fortunately, dental implants in Washington, D.C. can help! Keep reading to learn which summer foods you can eat after implant surgery and once dental implants have completely healed.
What Are Dental Implants?
A dental implant is a small screw that is surgically inserted into the jawbone where a tooth has gone missing. Typically made from extremely durable titanium, dental implants restore the missing tooth root structure. In fact, they are the only tooth replacement solution that replaces missing teeth from the roots up. Once an implant has been placed, it integrates with the surrounding bone over the course of several months. A crown, bridge, or denture is attached to the top of an implant after it has healed, restoring dental function and appearance.
What Should You Eat After Dental Implant Surgery?
Eating a balanced diet and plenty of protein can help you heal after oral surgery. However, you should stick to a soft-food diet for at least 24 to 48 hours (or as long as directed by your dentist). Thankfully, there are plenty of tasty soft summer foods you can choose from, such as:
Macaroni and cheese
Fruit smoothie (avoid using a straw)
Scrambled Eggs
Yogurt
Mashed potatoes
Apple Sauce
Pudding
Ice cream
Which Summer Foods Can You Enjoy with Dental Implants?
Dental implants in Washington, D.C. provide maximum stability for artificial teeth and restore 70% to 90% of full chewing power. This means that once your dental implants have fully healed, you can go back to eating all of your favorite summer foods! Feel free to load up your plate with hamburgers, watermelon, pasta salad, and more. Thanks to dental implants, you will never have to worry about your replacement teeth slipping while you eat!
Which Summer Foods Should You Avoid?
Here are a few summer staples you may want to avoid in order to protect all your teeth, including your implants:
Hot dogs – Hot dogs contain high levels of processed saturated fat, which can contribute to gum inflammation and periodontal disease.
Corn on the cob – Corn kernels can easily get stuck in between your teeth and implants. Cutting off the kernels with a knife and eating them with a fork or spoon is safer for your oral health.
BBQ sauce – Many BBQ sauces include loads of sugar and corn syrup, which oral bacteria can feed on to produce harmful acids.
Dental implants are popular in part because you can treat them just like your natural teeth! By aiming for a balanced diet and practicing good oral hygiene, you should be able to enjoy every summer to the fullest.
About the Author
Dr. Yelena Obholz is dedicated to providing comprehensive oral care to the Washington, D.C. community. She partners with trusted specialists to rebuild patient smiles with high-quality dental implants. To learn more about implant treatment, visit the Aesthetic & Family Dentistry of Washington website or call 202-364-8989.