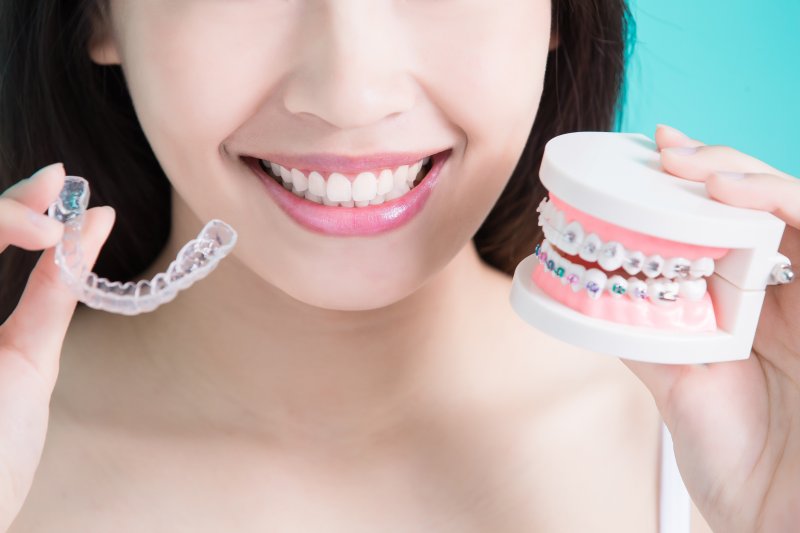 Are you looking to straighten your smile? One of the greatest things about living in today's world is the fact that you don't need to settle for teeth that you aren't confident showing off. There are several different teeth straightening options out there, but many people struggle with this question: Invisalign or traditional braces? The truth is that both options have great benefits. Continue reading to learn about the advantages of each one so you can decide which one is best for your needs.
What Are the Benefits of Braces?
For kids, young teens, and many other people, traditional orthodontics are the go-to option. Here are some of their advantages:
Fixes Many Issues: If you have a more severe case of misalignment, braces are probably a better option. Because the brackets are adhered to the teeth, they allow for more movement and rotation than clear aligners. This way, complex corrections can be made.
They Work: Braces have been used for centuries in order to correct misalignment issues. With modern dental technology, they are better than ever before. Nearly everyone is happy with their results in the end.
Perfect Compliance: It may not seem like a great thing to have brackets attached to your teeth, but if you know that you aren't the most disciplined person out there, it can be a plus. It pretty much requires you to be compliant with them so your treatment can go as planned.
Affordable: There are a variety of factors that determine the cost of each treatment, but traditional braces tend to be more affordable on average.
What Are the Benefits of Invisalign?
Adults and older teenagers often prefer Invisalign. Here are just a few of the reasons why:
Invisibility: Many adults shy away from this teeth straightening option because they don't want to show off a mouthful of metal for who knows how long. With Invisalign, this isn't an issue. No one will even be able to tell that you are wearing them!
Removeable: When you can take out your clear aligners, you can have an easier time cleaning your aligners and teeth. This way, you don't need to deal with eating restrictions like you typically would with traditional braces.
Comfort: No teeth straightening treatment is free from discomfort, but Invisalign uses less pressure to move your teeth into their new locations. This means that patients tend to feel less soreness with this method compared to traditional braces.
If you are unsure which teeth straightening option is right for you, talk to your dentist. This way, you can discuss a treatment plan that fits your needs.
About the Author
Dr. Yelena Obholz earned her Doctor of Dental Surgery degree from the New York University College of Dentistry before doing advanced work in periodontics, oral surgery, and prosthodontics. She completes numerous continuing education classes each year to keep her knowledge and skills sharp, including from the prestigious Las Vegas Institute for Advanced Dental Studies. If you are looking to straighten your smile, she would be happy to help. For more information or to schedule a consultation, visit her website or call (202) 364-8989.