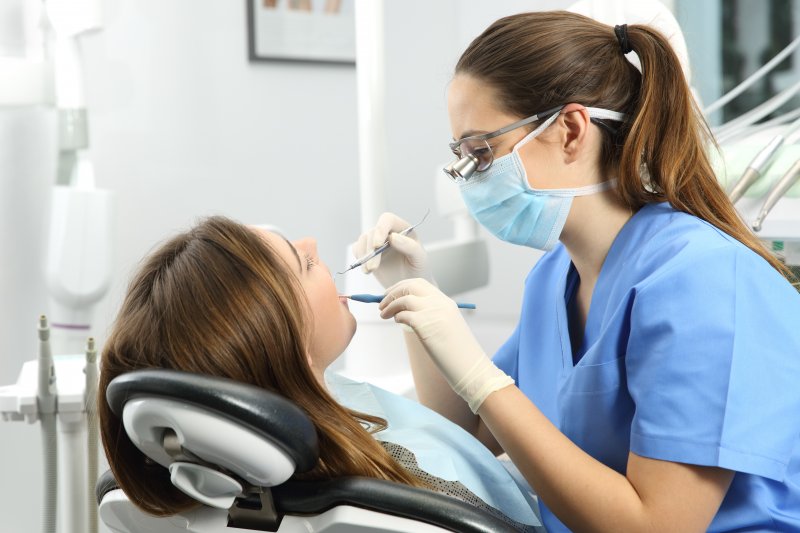 The American Dental Association (ADA) reports that approximately 42% of Americans are not seeing their dentist as often as they should be in order to maintain optimal oral health. There are all sorts of reasons why this may be the case. Whether you have worried about the cost of your visits, have dental anxiety, or just have a busy schedule, you should know that it is never too late to get back on track with your dental visits. If it has been a while for you, it may be difficult to remember what you have to look forward to. Continue reading to learn from a dentist in Friendship Heights about what you can expect at your next dental checkup.
How Long Will Your Appointment Last?
Since it has been a while since your last appointment, you probably want to give yourself a little bit more time than usual to complete your visit. This is because you will likely need to fill out some paperwork regarding your contact information, health history, and dental insurance information. About an hour is usually a sufficient amount of time to get everything done and allow plenty of time to discuss questions that you have to your dental team.
What Does a Dental Visit Consist of?
During a normal dental visit, here are a few things you can expect to happen:
X-Rays
Your dentist will need you to complete an x-ray usually once a year. An x-ray is a helpful tool when it comes to revealing oral health issues that cannot be easily detected by only looking with the naked eye. It helps dentists to discover problems related to the jawbone, impacted teeth, tooth decay, and other issues. This is a quick and easy process. You will have a lead apron placed over your chest, and an x-ray sensor is put in your mouth. Your hygienist or dentist will let you know when to bite down so that the photos can be taken.
Cleaning
One of the biggest parts of your visit is when your dental hygienist thoroughly cleans your teeth. Even if you are a diligent brusher and flosser, there will still be areas in your mouth that you can't reach. During this process, they will check your gumline, remove plaque and tartar with their dental instruments, floss your teeth, and polish them to remove surface stains.
Examination
Next, your dentist will step in to take a look at your teeth. During this time, they will check for signs of gum disease, cavities, oral cancer, or other abnormalities that could indicate an issue. If there is something that has been bothering you in your mouth, this is a great time to bring it up. Your dentist will let you know about any findings so you can stay in the loop with your oral health. This way, you can discuss further steps that will be taken.
Questions
There is an educational aspect to your dental visit as well. Your dental team is happy to answer any questions you may have about oral health, dental treatments, or your appointment.
Before you leave the office, be sure to schedule your next appointment so that you don't forget. This way, you will be able to stay on the path towards excellent dental health.
About the Author
Dr. Yelena Obholz earned her Doctor of Dental Surgery from New York University College of Dentistry before doing advanced work in periodontics, oral surgery, and prosthodontics during her residence at Woodhull Hospital in Brooklyn, New York. She is committed to taking many hours of continuing education classes each year in order to keep her knowledge and skills sharp. Currently, she is enrolled in the prestigious Las Vegas Institute. If it has been a while since your last dental visit, she would love to help you get back on track. To learn more or to schedule an appointment, visit her website or call (202) 364-8989.