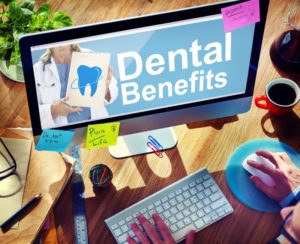 In order to make the most out of your dental insurance benefits, you need to understand more about the details of your plan, what's covered, and when to use it. Most people with insurance plans don't know these facts because it's difficult to know what questions you should be asking, especially because every plan is different. To learn how you can optimize your benefits while avoiding out-of-pocket costs, read below for four helpful tips about dental insurance.
"Out-Of-Network" Doesn't Mean Your Insurance Won't Cover The Cost
If you have a PPO plan and want to visit a dentist who is out-of-network, it's important that you don't automatically count them out. Your plan will reimburse you for any covered services that you receive there, you'll just need to pay for them up-front. After you leave the office, the dental staff will file claims on your behalf so you can get your money back for the services you received. For some people, this setup isn't ideal. However, for others who are passionate about sticking with the same, trusted provider or experienced professional, it's well worth the effort.
Save Money By Taking Advantage Of Covered Services
Most dental insurance plans use a 100-80-50 coverage structure. Unlike medical insurance that covers all necessary treatments you receive, dental insurance companies want patients to prevent issues from occurring by receiving regular preventive care. That's why they cover 100 percent of the cost of routine checkups and cleanings, dental fillings, and other common services. If you require more serious treatments, like root canals and tooth extractions, they'll likely only cover 80 to 50 percent of the cost.
Know Your Co-Payment Amount
Before you visit your dentist in Friendship Heights for treatment, you'll want to familiarize yourself with your co-payment amount. Even if they're an in-network provider, you'll need to pay this flat-rate fee before you leave the office each time you visit them for any service other than routine covered appointments. That way, you're not caught by surprise.
Find Out What Your Annual Maximum Is
Some patients aren't aware that each year, their dental insurance company caps their benefits off at a certain amount. This figure is called the annual maximum. It can vary from patient-to-patient depending on your individual dental insurance package, but the average maximum usually falls between $1,000 and $2,000. This means that your dental insurance benefits won't cover any treatments that collectively exceed this amount.
These four dental insurance facts vary based on your unique coverage, which is why it's always important to contact an insurance advisor at your dentist's office to help answer any questions you have, or to call your insurance company directly. Knowing these helpful facts can allow you to preserve your monthly budget while getting the most out of your investment.
About the Author
Dr. Yelena Obholz has years of experience under her belt. Since graduating with her DDS from the New York University College of Dentistry, she has dedicated her time to advancing her skills in specialized services, including periodontics, oral surgery, and prosthodontics. She wants to provide each patient that walks through her doors with accessible and affordable high-quality dental care, which is why she is an in-network provider with most major PPO plans and offers an in-house dental savings plan. For questions or to schedule a routine checkup and cleaning, visit Aesthetic & Family Dentistry of Washington's website or call 202-364-8989.