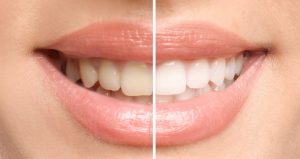 Are you looking for a way to make your smile appear brighter, healthier, and even younger? Teeth whitening from your dentist in Friendship Heights may be the best answer. Not only is it common, but it is also one of the most affordable options when it comes to cosmetic dentistry.  Continue reading to learn more about the benefits of teeth whitening and how it can give you a more youthful appearance.
How Does Whitening Your Teeth Make You Look Younger?
Your teeth become discolored over time. Even though sometimes it can be prevented, other causes are out of your control. By reducing your intake of dark colored beverages like coffee and red wine, as well as refraining from using tobacco products, you can reduce the amount of discoloration that your teeth will endure over time. In addition to these common stain causes, as you get older, the protective enamel on your teeth gets thinner which makes your smile have a more yellow appearance. This kind of thing doesn't go away with regular old brushing and flossing which is where professional teeth whitening comes into play. By reducing this discoloration on your teeth, you will have a brighter, healthy-looking, youthful smile.
How Else Can Teeth Whitening Benefit You?
With a whiter smile comes a better sense of self-confidence. Your teeth will appear healthier, you will look younger, and you will be proud to show them off to the world. Being more confident can help you in so many areas of your life. Whether you are pursuing your career, getting back into the dating scene, or just trying to go out and have fun, you are likely to notice a difference in how you carry yourself. On top of all this, it is affordable! You don't need to break the bank in order to have a smile that you truly love.
How Does Teeth Whitening Work?
Your dentist in Friendship Heights offers multiple different options depending on her patient's individual needs. They include:
Crest 3D take home trays: This is an entry-level solution that is high convenient. These take-home trays are best for patients with a low sensitivity level.
Smile Perfected: If you have higher teeth sensitivity, you could try this method. It involves 20 minutes under a light-activated whitening solution.
KöR in-office whitening: For a more dramatic in-office experience, you could try this procedure. It requires a greater commitment but can whiten your teeth by many shades during just one visit.
KöR take-home whitening solutions: These custom take-home kits are great for patients who want dramatic results from the comfort of their own home. It includes custom whitening trays, a whitening solution, and requires a two-week commitment to wearing the trays.
By investing in teeth whitening, you will not only have a brighter smile, but an improved confidence. Who doesn't want a youthful smile they are proud to show off to the world?
About the Author
Dr. Yelena Obholz is an aesthetic and family dentist serving patients in Washington, DC. She earned her DDS from New York University College of Dentistry and is committed to expanding her knowledge by taking many hours of continuing education courses each year. Currently, she is enrolled in the prestigious Las Vegas Institute for Advanced Dental Studies. Dr. Obholz offers several teeth whitening options for her patients. For more information or to schedule an appointment, visit her website or call (202) 364-8989.