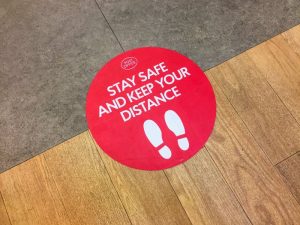 The past few months have been difficult. You've had to stay home away from your family members who are at a higher risk of developing life-threatening complications if they contract COVID-19. You've had to wear a mask when you go out and plan your grocery trips very carefully. Amidst all of this stress, your tooth suddenly starts hurting. Fortunately, you don't have to worry about infection at the dentist's office because they take your health and safety very seriously. Keep reading to learn about all the ways a dentist in Friendship Heights is enforcing social distancing and keeping their practice safe.
No More Hugs or Handshakes
Ordinarily, your dentist and their team members would be more than happy to say hello and goodbye with a handshake or even a hug. But these are not ordinary times, and protocol has changed. Instead, you'll have to come up with alternative ways of greeting the dental staff. For example, you could give them an enthusiastic wave, a thumbs up, or a peace sign.
Spaced-Out Patient Scheduling
Your dentist simply isn't seeing as many patients as they used to. This allows for longer appointments so that more procedures can be performed in one sitting, reducing your need to go out as often. Furthermore, more time is allocated in between patients for cleaning. It also prevents patients from bumping into each other on their way in and out of the office.
Safer Waiting Rooms
There are fewer chairs in the waiting room these days, and all of them have been placed at least six feet apart from each other. Additionally, all activities such as magazines and toys have been removed from the reception area. This might make waiting for your appointment to begin a little less exciting, but since germs frequently accumulate on those items, you'll be much safer.
One-Way Office Traffic
Helpful signs have been placed around the office directing patients where to go before, during, and after their appointments. No longer will you awkwardly run into someone who's arriving at the office at the same time you're leaving. This, coupled with the sequenced patient scheduling, drastically reduces the risk that you'll make physical contact with another patient.
Rest assured that your dentist does their utmost to ensure your safety while you're under their care. You should be able to receive whatever treatment you need without worry.
About the Author
Dr. Yelena Obholz is a dentist in Friendship Heights, Washington, D.C. who earned her Doctor of Dental Surgery degree from New York University College of Dentistry. She then completed a residency at Woodhull Hospital in Brooklyn, where she underwent advanced training in periodontics, prosthodontics, and oral surgery. Her practice has implemented several safety precautions to keep patients healthy during their appointments. To learn more about how Dr. Obholz keeps her office clean and safe, visit her website or call (202) 364-8209.