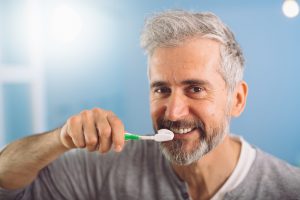 In the middle of a quarantine, the last thing you want to deal with is a toothache. Unfortunately, an estimated two million Americans will this year because of dental issues that have gone untreated in their mouths. Most dental offices are currently closed for preventive visits, but smart home care strategies still can go a long way in stopping issues before they arise. Read on to discover some helpful tips from your dentist in Friendship Heights that can improve the quality of your oral health.
1. Improve Your Brushing Routine
Your toothbrush is the most important tool you have to maintain your oral health. But if you're just brushing once in the morning, you're leaving your teeth and gums open to damage from bacteria all day long. Try to brush after each meal for at least two minutes to keep your mouth cleaner and healthier during the day. Additionally:
Brush gently with a soft-bristled toothbrush. Aggressive brushing will damage the gum tissue.
Clean your tongue. Bacteria love to hide in its grooves and cause bad breath.
Floss at least once a day. Doing so will allow you to remove food and plaque that your toothbrush can't reach.
Use mouthwash. Not only will it kill harmful germs, but many kinds contain fluoride that will fortify your teeth.
Finally, consider getting an electric toothbrush for the most effective brushing experience. The oscillating brush head produces vibrations that can loosen plaque in hard to reach areas. Certain versions can also tell you if you're brushing too hard to prevent you from damaging you enamel and gums.
2. Stay Away From Sugary Snacks
We understand the temptation to grab a cookie or soda during a stressful time, but if you do it too often, you endanger the health of your teeth. Sugars are the energy source bacteria need to break down your teeth. Try and avoid snacks like:
Candy
Fruit Snacks
Crackers
Soda
Coffee
Instead, try and reach for one of these snacks when you're hungry:
Fresh Fruits and Vegetables
Cheese
Green Tea
Unsweetened Yogurt
Sugar Free Gum
3. Drink More Water
Water naturally provides your mouth with an extra layer of defense against tooth decay. By drinking a cup between meals, you can:
Rinse away food particles trapped between teeth
Remove some of the staining agents left behind from coffees and sodas
Stimulate the production saliva that slows the process of tooth decay
Strengthen your teeth by replenishing the enamel with vital minerals such as fluoride
While the COVID-19 crisis may have caused many changes in your life, you're still in control of your dental health care. Incorporating these tips into your daily dental care routine will put you on the path to a healthier, stronger smile.
About the Author
Dr. Yelena Obholz completed dental school at New York University College of Dentistry. Since then, she has continued to improve her knowledge of treatment techniques. She is currently enrolled in the Las Vegas Institute for Advanced Dental Studies. She and her team are ready to handle any dental issue with speed and compassion. If you're concerned that you might have an issue that requires immediate care, you can reach her at her website or at 202-364-8209.