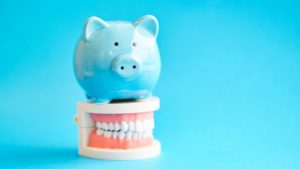 Although it might not seem like it, you can actually save money in the long run by visiting your dentist in Friendship Heights twice a year. If you haven't already seen your dentist twice this year, now is the perfect time to go, especially if your insurance plan runs on a traditional calendar year. Let's take a closer look at 5 reasons why you should maximize your dental insurance benefits by seeing your dentist before the end of the year.
1. Yearly Maximum
Your yearly maximum is the most money that your dental insurance will pay for your dental work within one year. This amount varies per person, but it's typically more than enough to cover the recommended two checkups and cleanings you need every year to have a healthy mouth. These benefits will not roll over at the end of the year, so it's important to spend them while you have them.
2. Deductible
A deductible is the amount of out-of-pocket money that you have to pay your dentist before your insurance will start to offer coverage. This varies from plan to plan and is typically higher if you choose a dentist who is out of network. Like your yearly maximum, your deductible starts again when a new year rolls around.
3. Premiums
If you pay your premiums every month, you might as well use your coverage to get your teeth cleaned and checked. Even if you don't think there are any problems with your oral health, it never hurts to see your dentist twice a year to look for early signs of problems like gum disease, tooth decay, oral cancer, or other issues.
4. Possible Fee Increases
If you don't use all your dental benefits by the end of the year, there's a chance that your fees will rise. Some dentists increase their rates at the beginning of the year to pay for equipment, costs of living, etc. this might make your copay higher. Therefore, if you need to see your dentist or doctor for any reason, you might as well do it now before your rates could possibly go up at the start of the new year.
5. Dental Issues Can Get Worse
Perhaps the most important reason to see your dentist twice a year is to prevent dental health problems from worsening and needing more extensive and costly treatment later on. What starts out as a simple cavity might turn into serious decay that needs root canal therapy or even extraction. By visiting your dentist now, you can get these problems detected early enough that treatment won't be quite that extreme.
Now you see how seeing your dentist twice year can actually save you money down the road. Call your dentist today and book an appointment so you can maximize your insurance benefits.
About the Author
Dr. Yelena Obholz earned her Doctor of Dental Surgery degree from New York University College of Dentistry. She then completed a residency at Woodhull Hospital in Brooklyn before opening her own practice, Aesthetic & Family Dentistry of Washington, in Washington, D.C. Her office accepts most major insurance plans. To book your appointment, click here or call (202) 364-8989.