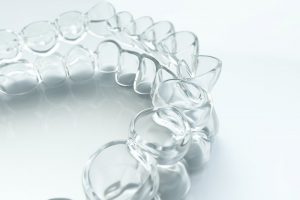 Invisalign in Friendship Heights utilizes a series of clear aligners that are custom-fitted to your mouth to gently shift your teeth into their ideal positions. This modern orthodontic treatment doesn't require the cumbersome look and feel of brackets and wires and is even removable! If you have crooked or misaligned teeth or a bite problem, be sure to schedule a consultation to see if clear braces are right for you. Read on to get a better idea of what to expect from the treatment process before you dedicate yourself to it.
Even Though They're Removable, You'll Still Have To Wear Them
Like any orthodontic treatment, you'll need to wear your Invisalign aligners every day to get the results you'd like. Because the trays are removable, it can be incredibly tempting to take them out and forget to put them back in. In order to stay on your timeline, you'll need to wear your trays for at least 22 hours each day. That means that you'll need to quickly eat your meals and snacks and get in the habit of always having your aligners in your mouth.
Travel Toothbrushes Are Going To Be Your New Best Friend
Before you receive your first set of aligners, be sure to go out and buy a couple of travel toothbrushes. You'll use them to brush between your three meals each day. That means that no matter where you are, you'll need to clear your teeth of food debris to prevent oral health problems.
Minimize Discomfort and Pain
One reason that Invisalign treatment is so preferred over traditional metal braces is that the aligners are made of a clear, smooth, FDA-approved plastic. With brackets and wires, they can tear up your oral tissues and you'll need to use orthodontic wax to ease your pain. Each time you get a new series of trays, you may notice slight soreness, but it's nothing that can't be handled with over-the-counter pain medications. Also, it'll only last a couple of days.
Don't Clean Aligners With Toothpaste
The best benefit of using Invisalign aligners to straighten your teeth is that they're practically unnoticeable. Patients sometimes make the mistake of brushing them with toothpaste to clean them, when really, this can damage and scratch them up. Toothpaste is too abrasive for your aligners, instead, use a clear antibacterial soap or special Invisalign cleanser and a soft-bristled brush.
Treatment Time May Be Longer Than You Expect
The average Invisalign treatment is shorter than traditional braces, but it could still be months before you get your straighter smile. Sometimes, patients may need an extra series of trays towards the end of their treatment to help them get their teeth in their ideal positions. Even though you won't have to endure your aligners as long as you would metal braces, it's important to still realize that this is a process that still takes time.
To learn whether Invisalign treatment is right for you, schedule a consultation with your dentist. They can answer any questions you have and help you know what to expect throughout the process. With consultation and knowing these truths about Invisalign, you'll be able to make the best decision for you.
About the Author
Dr. Yelena Obholz believes in not only improving her patient's oral health, but also giving them a smile to be proud of. That's why she offers a variety of cosmetic procedures such as Invisalign. She routinely takes continuing education dental classes and is enrolled in the prestigious Las Vegas Institute for Advanced Dental Studies. She focuses on providing her patients with the best quality of care and most advanced techniques in the dental field. For questions or to schedule a consultation for Invisalign, visit Aesthetic & Family Dentistry of Washington's website or contact 202-364-8989.