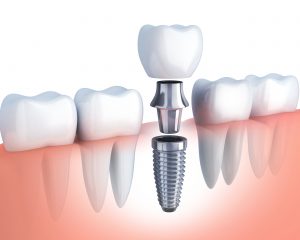 You've been missing one or more teeth for a while now. You miss chewing a nice juicy steak every once in a while. A friend suggested you get dental implants to replace those missing teeth and give you back your smile and chewing abilities. However, when you brought it up to your dentist, you couldn't understand a single thing he said back to you! Because implants are designed to last for decades, it's important to understand a little bit about them. Let's look at 9 key terms you should know about dental implants in Washington DC.
What Is a Dental Implant?
A dental implant is a post that is surgically inserted directly into the jawbone in place of the missing tooth. The post is made of biocompatible material that gradually fuses with your jawbone after a period of a few months. Because of this, implants are designed to last for decades, and with proper care, they can even last a lifetime. Now let's look at the terms you need to know.
What Are the Parts of a Dental Implant?
Dental implants consist of 3 parts:
Implant: The part that is inserted into the jaw. It is strong and durable, and stimulates your jawbone through biting and chewing.
Abutment: An attachment placed on top of the implant. This allows the crown to sit on top.
Crown: Also called a cap. This is placed over the abutment and implant to help it look and feel more like a natural tooth.
What Are the Types of Dental Implants?
There are 3 types of dental implants:
Endosteal: The most common type of implant. A dentist will place small screws, plates, or cylinders into the jawbone via surgery.
Eposteal: Rests directly on the jawbone. Eposteal implants are ideal with a patient has a high risk of jawbone deterioration.
Subperiosteal: Sits on top of the jaw. The posts of the metal framework stick up through the gums to hold the prosthetic tooth in place.
What Are Dental Implants Made Of?
Implants are typically made out of 1 of 3 materials:
Titanium: The most common material in implants. It's strong yet lightweight, causing minimal stress to your jawbone.
Zirconia: Have no prosthetic connections, lowering the risk of bacterial infection. They're also white in color so they more closely resemble a natural tooth.
Ceramic: Patients with a metal allergy might opt for ceramic implants. They can be custom shaded to match the color of your other teeth.
 Now that you understand the basics of dental implants, they shouldn't seem so scary! If you have any more questions about implants, don't be afraid to ask your dentist.
About the Author
Dr. Yelena Obholz achieved her Doctor of Dental Surgery degree from New York University College of Dentistry. She also completed a residency at Woodhull Hospital in Brooklyn, New York, where she did advanced work in oral surgery, prosthodontics, and periodontics. To learn more about dental implants, contact Dr. Obholz here or call her at (202)-364-8989.