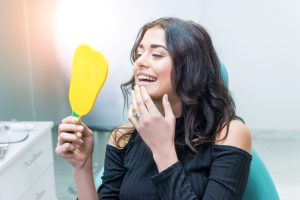 Your smile needs more than just brushing and flossing to stay healthy. You should also visit your dentist in 20016 at least twice a year. Although you could just pick the first dentist who appears on a Google search, this not in your smile's best interest. You have unique oral health needs, and you deserve to benefit from the best. You should not settle for just any dental team. Now, you can achieve a stellar smile with a trusted dentist in the community, Dr. Yelena Obholz. She raises the bar for high-quality dentistry that caters to your need.

Choose Compassionate, Personalized Care
Your oral health needs constantly change over the years. If a complex issue arises, you do not want to be sent to an unfamiliar location. You do not need to with Dr. Obholz. She treats patients of all ages to create generations of healthy, beautiful smiles.
Dr. Obholz received her D.D.S. degree from New York University College of Dentistry. During her residency at Woodhull Hospital, she focuses on advanced areas of care, including periodontics, oral surgery, and prosthodontics. She strives to provide her patients with the latest techniques and treatments, which is why she regularly continues her education, such as her current enrollment at the Las Vegas Institute for Advanced Dental Studies. Dr. Obholz is supported by extensive experience and qualifications to deliver the superior care you need through all stages of life, even if you need treatment for complex issues.
She takes the time to get to know you. Dr. Obholz does not treat you like just another appointment. She embraces her patients like they are her own family to help you feel at ease in your oral health decisions. She creates treatment plans that accommodate your needs and your preferences to help you achieve a healthy, beautiful smile that lasts.
Enjoy Complete Services.
Our modern dental office provides the exact services you need under one roof. We focus on prevention to keep your teeth and gums healthy. This reduces the need for an expensive treatment in the future to reduce your overall dental costs.
Even with the best preventive care, a problem can still occur, like tooth decay or a fracture. Our office features the latest technologies and treatments to restore a healthy, functional smile. We also offer a variety of cosmetic treatments to give your teeth a little extra vibrancy.
No matter if you need a preventive appointment, periodontal therapy, or dental implants, you will get the exact services your smile depends on at Aesthetic & Family Dentistry of Washington. Experience a better side to dentistry today!
About Dr. Yelena Obholz
Dr. Yelena Obholz earned her dental degree from the New York University College of Dentistry. Her residency allowed her to expand her skills on advanced dental issues, like oral surgery and treating tooth loss. She provides personalized care to patients of all ages from her modern dental office. If you need a new dentist, benefit from the best. Contact our office today for an appointment.