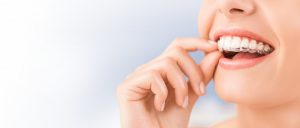 One of the first traits a person will notice about you is the condition of your teeth. So if you have bite woes, it could leave you feeling uncomfortable and less confident. You no longer have to live in shame, though, because there's a way to correct your bite in a convenient and discreet way – Invisalign in Washington, DC. Read on to learn more about this amazing system and why it's the best route to achieve a smile that dazzles!
What is Invisalign?
Just like traditional braces, the Invisalign process addresses misalignment, gaps, crowding and other bite imperfections. This method consists of a series of clear, plastic trays that are custom designed by your dentist.
The process starts with a dental scanning using the latest in 3D digital X-ray technology. The high-resolution images produced allow your dentist to fully assess your current condition so a treatment plan can be created.
Next, a digital impression is taken, which means you won't have to endure any messy putty. The entire treatment plan is then sent to a certified Invisalign lab that will fabricate your complete set of aligners.
How the Treatment Process Works
Once your Invisalign aligners are ready, you'll return to retrieve the entire set. Your dentist will instruct you to wear each pair for two weeks and then discard them for the next progression in the series. This pattern will allow your teeth to gradually move, which amounts to a more comfortable treatment process.
Additionally, you'll need to visit your dentist periodically to make sure you are on schedule with your plan and to receive any adjustments, if needed. Because there are no wires to tighten, these appointments won't require much of your time.
Is Invisalign Better Than Braces?
The Invisalign process offers several advantages that make it more convenient than the traditional braces route. Here are some of the perks:
There are no brackets or wires.
You're able to maintain a discreet look because of the Invisalign aligners' clear design.
The aligners are removable, which means you can maintain a normal diet and oral hygiene habits.
The treatment process typically requires less time than traditional braces to complete.
If the above features are appealing, then the Invisalign method is the procedure for you.
The first step, though, is to reach out to schedule a consultation. This will provide the dentist an opportunity to assess your smile and to further explain what you should expect from the procedure. You'll also be able to ask any questions you may have.
Once fitted with your aligners, you'll be on the road to smile perfection!
About the Author
Dr. Yelena Obholz earned her dental degree from New York University College of Dentistry. A passionate professional, she takes a meticulous approach to providing care. Dr. Obholz also takes continuing education courses to stay abreast of the latest changes in dentistry, so she can provide the absolute best care. She remakes smiles with Invisalign at Aesthetic & Family Dentistry, and she can be reached for more information through her website.