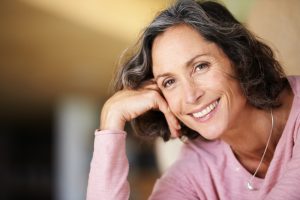 For decades, dentists have had to treat receding gums with traditional surgery, requiring a scalpel, one incision or more, sutures and a recovery period that was often lengthy and painful. Fortunately, all of that has become obsolete thanks to the Chao Pinhole® Surgical Technique (PST™). With pinhole surgery in Washington, D.C., a dentist can provide the same beneficial results with a noninvasive procedure, so that a patient with gum recession can have a more attractive and healthy smile.
Why Do You Have Receding Gums?
Receding gums, also known as gum recession or gingival recession, is a somewhat common dental problem that causes gum tissue to rise on your upper teeth or descend on your lower teeth. Consequently, teeth roots become exposed and your teeth may look unnaturally long.
Receding gums are caused by a number of dental and oral health problems including:
All phases of periodontal disease—gingivitis, periodontitis and advanced periodontitis
Bruxism, or teeth grinding and clenching
Teeth that are not well aligned
Cleaning teeth with a toothbrush that has hard bristles
Not flossing regularly
Personal genetics
Unfortunately, exposed tooth roots could make teeth look disproportionately long, and they may also lead to tooth sensitivity, pain when chewing, bleeding gums when you brush or floss your teeth and an increased risk of tooth decay.
How Does Pinhole Surgery Work?
Because of the negative affects of gum recession, treatment is necessary to restore good oral health. With pinhole surgery, your gums are anesthetized before the procedure begins. Then, the dentist uses a needle to make a small hole in your gums. Special instruments are inserted through the hole to gently and carefully loosen gum tissue. This way, it can be expanded and moved to cover your exposed tooth roots.
Compared to traditional surgery for receding gums that may require tissue grafts, incisions with a scalpel and stitches, there is far less discomfort with pinhole surgery. Moreover, the recovery time is typically shorter and much easier than with traditional treatments.
If your teeth look too long, or if you are experiencing tooth sensitivity, then schedule an appointment with a dentist in Washington, D.C. Receding gums can be taken care of with pinhole surgery.
Meet the Dentist
Dr. Yelena Obholz is a dentist who did advanced work in periodontics, oral surgery and prosthodontics. She uses pinhole surgery to treat receding gums. Dr. Obholz currently practices at Aesthetic & Family Dentistry of Washington, and she can be contacted through her website or by phone at (202) 759-7431 for any questions.