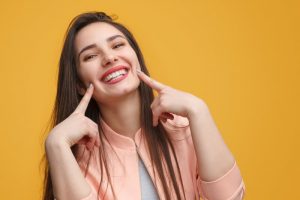 When you look at your smile, are there any areas you're self-conscious about? Chips and cracks in your teeth can occur for various reasons, and many people have them. Additionally, routine coffee, wine, or soda drinkers may notice tooth discoloration overtime. As your smile ages, these flaws can start to add up, leaving you less confident about your grin. Keep reading to learn how porcelain veneers can beautifully transform your smile from a cosmetic dentist in Washington, DC.
What Are Veneers?
Veneers are custom-made thin shells that cover the front surfaces of your teeth. They are made out of dental porcelain to exactly match your natural smile. With your cosmetic dentist, you can decide the exact size, shape, and color of your veneers to get the smile you've always dreamed of.
Veneers are especially popular in Hollywood because they can correct a wide-range of flaws in the smile. That's why many celebrities turn to veneers to achieve perfectly straight, white teeth.
What is the Procedure Like?
Your dentist will remove a tiny bit of your tooth enamel, and they will take a mold of the area you want improved. The impression your dentist takes is then sent to a hi-tech lab to custom-make your porcelain veneers.
After, your dentist will place the veneers on your teeth to make sure they're a perfect fit, and they will bond the thin porcelain shells to your teeth. Your dentist will then check to make sure your smile is looking as good as it should, and then you'll have a radiant grin for 7 to 15 years!
How Can Veneers Help My Smile?
See below some of the top reasons people get porcelain veneers:
Dental Porcelain matches the look and feel of natural teeth.
Porcelain veneers are stain resistant, so you can drink all of your favorite dark beverages.
Veneers seamlessly hide cracks, chips, stains, discoloration, and other flaws in the smile.
Veneers require less enamel removed than other procedures like caps or crowns.
With proper care, veneers can last for years and years.
Gum tissue tolerates dental porcelain well, so your gums and surrounding tissue won't get irritated.
Increased confidence with a more youthful and healthy-looking smile.
The only way to find out the specific benefits that porcelain veneers in Washington, DC can bring to your smile is to talk to your local dentist. You'll be amazed at the way veneers cover your imperfections for a beautiful set of pearly whites.
Meet the Dentist
A graduate of New York University College of Dentistry, Dr. Yelena Obholz takes continuing education courses to remain updated on all of the latest techniques in dentistry. She loves helping with smile confidence, which is why she offers porcelain veneers to her patients. She currently practices at Aesthetic & Family Dentistry of Washington, and she can be contacted through her website or by phone at (202) 364-8989 for any questions.