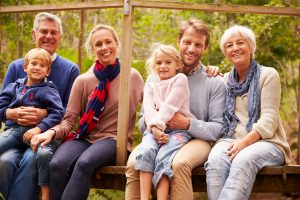 You love your family – your kids, your spouse, even your in-laws. They always keep you on your toes and give you a lot to laugh and smile about. But a big family means being busy, and that leaves you searching for more hours in the day. You wish you could make dental care for your family easier, and with Aesthetic & Family Dentistry of Washington, you can! Since we offer comprehensive care for your entire family, you can save time and take care of your whole crew in our office. Find out why we're the premier family dentist in Washington, DC in this post.
What Makes Aesthetic & Family Dentistry of Washington Different?
Dr. Yelena Obholz is a mom herself, and she takes pride in treating her patients with the same care and compassion she would give her own family. She's a graduate of the prestigious New York University College of Dentistry and has years of experience in every facet of dentistry. She's kind, has a gentle touch, and takes the time to educate her patients to set them at ease.
And, if you don't believe us, take a look at some of her online reviews to learn what patients just like you have experiences when working with our team. If you search for us, you'll find we've got 5/5 stars on ZocDoc.com.
What Services Do You Offer?
At our practice, we offer comprehensive care for everyone in your family. We love treating patients of all ages, and the list below has just some of the services we provide:
Preventive Dentistry – Exams, cleanings, and X-rays
Children's Dentistry – Dental sealants, athletic mouthguards, and Toothprints™
Emergency Dentistry – Knocked-out teeth, toothaches, broken crowns or fillings
Restorative Dentistry – Dental implants, crowns, and root-canal therapy
Cosmetic Dentistry – Porcelain veneers, teeth whitening, and Invisalign
Can Your Practice Help Me Save Money?
At Aesthetic & Family Dentistry of Washington, we strive to make quality dental care affordable for every patient. We accept many insurance plans and are always happy to submit claims. We offer CareCredit financing for those worried about coverage gaps, and we even offer great discounts, including:
$275 New Patient Special – Comprehensive Exam & Cleaning
$35 Fluoride Treatment
$50 Oral Cancer Screenings
$579 In-Office Whitening with Take-Home Trays
$379 In-Office Whitening (without trays)
Now that you know why we're the right practice for your entire family, schedule your appointment today with Aesthetic & Family Dentistry of Washington, the most qualified, most convenient practice in DC!