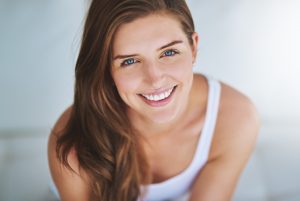 You've wanted to do something about your smile for years — why not make 2017 the time you finally take the plunge? It's never a bad time to improve your self-confidence by rejuvenating your smile. Your dentist in Washington DC can help you enjoy radiant teeth with one of the following cosmetic services. Which one(s) would you benefit from most? Let us know on our Facebook post!
Smile Makeovers Take a Comprehensive Approach
The most dramatic aesthetic improvements without a doubt come from the smile makeover. It's a comprehensive treatment that draws from cosmetic and restorative dentistry to reveal a smile that looks and functions just like it should — or even better.
Bring in photos of smiles you admire to begin the conversation for your makeover. Tooth replacement completes your gapped smile, and nothing does the job better than dental implants. Porcelain veneers, teeth whitening, and tooth colored fillings (more on each below) provide significant cosmetic improvements. You and Dr. Obholz will discuss your needs and goals and together come up with a plan for revealing your very best smile.
Professional Teeth Whitening Does the Job Best
There's no shortage of options for whitening your teeth. Why not just swing by the pharmacy on your way home and pick up a cheaper, faster bleaching kit? Because nothing whitens as well, or as safely, as a professional-strength treatment from your dentist.
In-office Zoom! Whitening is completed in just one visit to our office. After covering up your lips, gums, tongue, and cheeks, Dr. Obholz paints the whitening solution onto the surface of each tooth. It's activated under a special light in three, 15-minute intervals. At the end of the treatment, your teeth have been whitened by up to eight shades!
Custom at-home teeth whitening is also available for patients who prefer to reveal their results more gradually.
Porcelain Veneers Give Your Smile a Second Chance
If you're dissatisfied with your flawed front teeth, porcelain veneers come to the rescue to give your smile a second chance. These thin coverings of dental porcelain completely remake the shape, size, color, and overall appearance of the teeth that show when you smile. Porcelain veneers are completed in two to three visits to Dr. Obholz's office, and can last for a decade or more with proper care and maintenance.
Composite and Porcelain Fillings
Forget the days when having a cavity meant getting it filled with an unsightly metal filling. Composite (tooth-colored) and porcelain fillings provide wonderful, aesthetic solutions following tooth decay. Dr. Obholz can also replace old gray dental work with a tooth-colored alternative.
Composite fillings are made out of biocompatible composite resin, a mixture of smooth glass and plastic particles. They are bonded to the hole (cavity) left by tooth decay. A porcelain filling, also known as an inlay/onlay, is created outside of your mouth and bonded securely on after. Both last for many years after their application.
Let's Get Started on Your Smile Improvements!
Partner with your cosmetic dentist in Washington and 2017 can be your smile's year. We would love to get started on your dental improvements today! Request an appointment online.