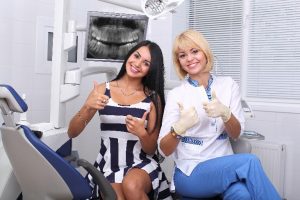 Are you tired of hiding behind unattractive teeth? Do you find yourself covering your mouth when you smile or when having your picture taken? You are not alone. In fact, it is estimated as much as one-third of adults do not like how their teeth look. No matter if you live with discoloration, chips, alignment issues, or other concerns, you can get the smile of your dreams with a cosmetic dentist in Washington D.C. With many excellent options in the area, it is best to take the time to choose the right one to meet your needs and your expectations.

What are Their Areas of Specialty?
Many general dentists offer cosmetic services, like teeth whitening and cosmetic bonding. While they can provide you with a variety of services, they may not specialize in more advanced treatments, like porcelain veneers, dental implants, or orthodontics. As a result, this can limit the treatment options that are available to you. To ensure that you find the perfect solutions to meet your needs, choose a dental team that focuses on cosmetic services.
Do They Have Additional Training?
To receive the results you expect, choose a dentist who has completed additional training beyond their general dental degree. With extensive training and qualifications, they will specialize in cosmetic procedures, including the latest advancements in the field to provide you with superior results.
Do They Have Experience?
An experienced dentist will have several before and after pictures of previous patients and procedures for you to look at. This allows you to see the results that they can produce to ensure that they are the right choice for you. Often, you can find before and after images on their website.
Do They Have a Positive Reputation?
Now, you can learn a lot about a dentist by taking the time to read reviews and testimonials from their patients. This provides you with first-hand insight into the care and the services you can expect to receive from the dental office. In addition to reading those on their website, you can often find additional reviews on Facebook or Google.
Do They Use Advanced Technology?
Technology transforms the dental experience, providing more accurate and precise treatments. With digital imaging, CEREC, and other advancements, you will benefit from high-quality care that is convenient while also keeping your comfort in mind.
Invest in Your Smile Today
If you are ready to love the appearance of your teeth, do not choose just any dentist. Take the time to research your options in the area to make a wise decision for your comfort and your smile.
About Dr. Yelena Obholz
Dr. Yelena Obholz is a trusted cosmetic dentist in the community for healthy, beautiful smiles. In addition to general dentistry, she regularly continues her education to remain well-versed in the latest dental treatments and technologies. Currently, she is continuing her training at the prestigious Las Vegas Institute for Advanced Dental Studies. Supported by experience and qualifications, she will help you achieve your dream smile. Contact Aesthetic & Family Dentistry of Washington today to schedule your consultation.